Jim Sconyers has been leading a continuing Sierra Club project to help restore a bank of historic coke ovens near Thomas, West Virginia. These ovens, nestled along the Blackwater River and adjacent rail trail, converted coal from the nearby mines into high grade fuel for the iron industry during the last century.
I wasn't able to work there the week of the project, but I drove up on a beautiful August Saturday and snapped these shots of the group hard at work.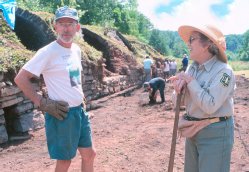 Here, Jim consults with Forest Service archaeologist Ruth Brinker.
Thumbnails Follow -- Click to Expand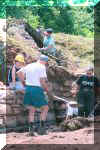 Treasure in the Rubble?

Inspecting the Firebrick

Foundation Work

Detailing the Rock

Here it Comes!